Leicestershire's Best Hog Roast Caterer
Spitting Pig Leicestershire is the home of the best hog roasts in the county, and we offer delicately cooked pork that melts along with a multitude of other menu options for any event in Leicestershire. We provide complete catering solutions and fully flexible menus for any event in Leicestershire, and even though we specialise in supply gourmet hog roasts, we also have the scope to prepare a wide range of other dishes too. This makes our catering services an appealing and suitable option for just about any occasion, as well as being a cost-effective and unique dining experience for any number of guests.
Unbeatable Hog Roast Catering In Leicestershire

The Hog Roast Leicestershire team are proud to be considered as the number one hog roast caterers around. It is a reputation we have earned through the quality of our free-range meat, our expertise in preparing it and our commitment to giving our diners the best possible standard of food and service every time. We put our heart and soul into catering to a superior standard at every event we are involved in, and we love making people happy with our epic hog roasts and exciting menus.
Wherever we are catering in Leicestershire, we always prepare our hog roasts on-site, giving our diners the chance to savour the aroma of our premium pork after it has been cooking slowly for several hours on-site. Catering in full view of our diners also gives everyone the opportunity to see the quality of our produce for themselves and the passion and commitment of our catering team as we work hard putting the finishing touches to our food before it is ready to be served.
It isn't just our hog roast centrepiece that we prepare on-site – we also make the rest of our food from scratch at the venue too, and we have the versatility to provide any of our menus in all different types of locations in Leicestershire. We are experts in all facets of outdoor catering, but we are also equipped to cater in certain indoor spaces too, so that our hog roasts can be enjoyed all year round whatever the weather.
Varied Mobile Menus For Any Occasion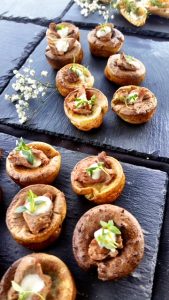 Here at Spitting Pig Leicestershire, we don't just provide the dream catering menu for pork lovers – we want our food to be suitable for everyone and we don't want anyone to have to compromise when we are catering for an event. We work tirelessly to create well-balanced menu options that offer something for everyone, and we put just as much through and attention to detail into the rest of the food that we provide, not just our specialist hog roasts. We can provide themed menus and fine dining options, as well as buffets and party platters for any occasion. All of our menus feature different meat options, as well as vegetarian, vegan and gluten-free food, as well as a diverse assortment of side dishes to please all tastes.
If you haven't already, check our menus section to see the varied catering packages that we have available for weddings, private parties and corporate hospitality in Leicestershire.
DIY Hog Roast Machine Hire Options
If you want to be the host with the most by doing your own catering, we are happy to take a step back and let you have the pleasure of being a hog roast chef for the evening yourself. In addition to supplying complete catering packages for any event in Leicestershire, we also have a range of hog roasters available to hire on a short- or long-term basis.
Whether you are a professional caterer looking to try before you buy,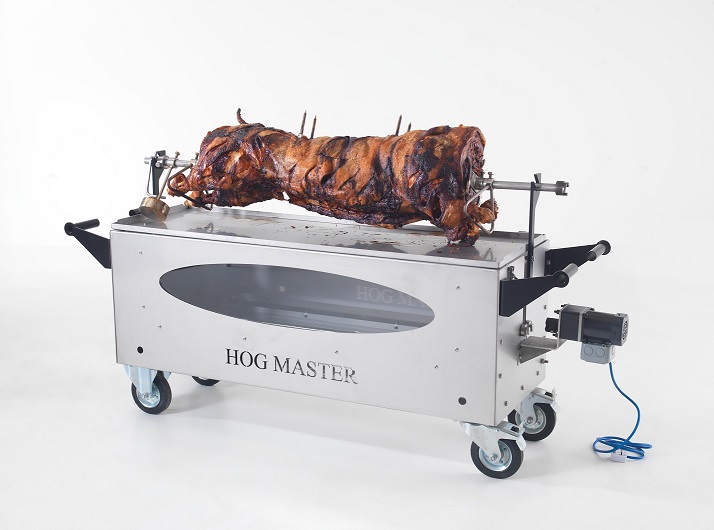 or you simply want to put on a great spectacle and some fantastic outdoor food for your guests, we have a selection of different models available to hire, and we will advise you on the best machine for your needs. Not only that, we will also deliver it to and collect it from your venue, and even take care of cleaning it after you have used it. Hiring a hog roast machine from us couldn't be easier, so please get in touch with us here at Spitting Pig Leicestershire to find out more!
Get A Free Quote For Your Hog Roast Leicestershire Event
If you already have a good idea of what you need when it comes to the catering for your event and how many guests you require food for, we will be able to provide you with a free no obligation quote which we're sure you will be very happy with.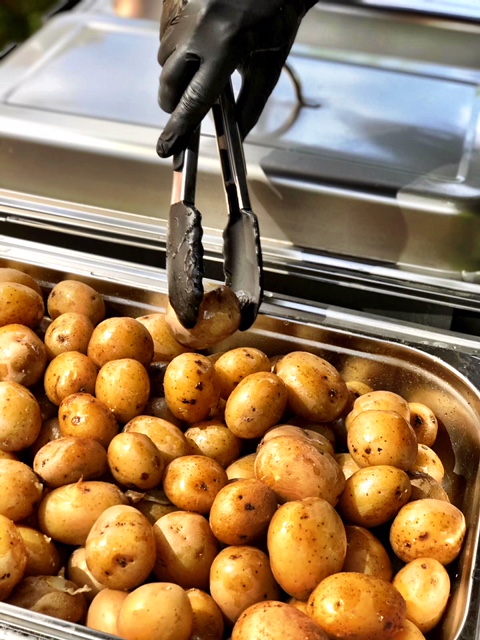 Don't worry if you aren't sure yet what type of menu would be best for your event and your budget – that's what we are here for! We will listen carefully to your requirements and suggest the optimum catering package for your requirements. Our expert event planners are available via phone or email to talk through all of our catering services and what type of menu would be a big hit with your guests. Alternatively, you can get the ball rolling by completing the simple enquiry form here on our website and you will receive a speedy response from a member of the Hog Roast Leicestershire team.
We can provide top-quality catering solutions and the best hog roast dining experience for any event in Leicestershire, so whatever type of event you are planning, Spitting Pig Leicestershire should be your number one catering choice for any occasion.