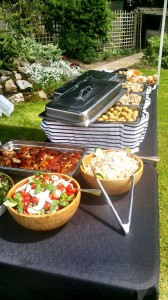 Allow us to extend the warmest of welcomes to Spitting Pig Leicestershire, the home of aromatic and succulent hog roasts across all eight districts of our beloved historic county. We're delighted that you've decided to check us out. Whether you're still at the catering ideas-gathering stage for your event or celebration or whether you're looking to commit to a sensational hog roast catering experience that's sure to be the talk of the town, Spitting Pig Leicestershire is ready to give you all of the information and assistance you need.
Our hog roast catering services have become very famous over the years and we know that we are highly regarded amongst the locals for being reliable, trustworthy caterers.
My name is Lee and I own Spitting Pig Leicestershire. From a young age I developed a love of cooking. I spent years developing my skills and gaining experience, then around 5 years ago I embraced hog roasting and chose to devote my time to Spitting Pig and I haven't regretted it at all.
I really do enjoy hog roasting and there is nothing better than seeing smiling faces coming together over my hog roast rolls. First and foremost for me is having a pleased client, then I go home a happy chef!
Hog Roast Leicestershire – Why We Chose Leicestershire As Our Home?
First, you may want to know just a little about why you should visit Leicestershire. It's true that we have a rich and entertaining history, but we also have more than out fair share of modern attractions that keep people coming back to enjoy our country year after year.
With a booming population that recently raced past the one million mark, and over 22,000 jobs flourishing in the tourism industry, Leicestershire certainly seems to know how to attract settlers and visitors alike. So what's going on here? And why should you consider making Leicestershire the hotspot destination for your next hog roast event or celebration?


Who's coming to Leicestershire?
… Leicestershire has a long and proud history that's older than the hills – literally. History hunters come here in search of 540 million year old fossils (the oldest to be found anywhere in the world!). Tech fans come to celebrate the life and times of the world's first computer programmer, Ada Lovelace, who was raised here. Music and comedy fans come here for the massively popular Download music festival and the huge Leicester Comedy Festival. What about families and sight seers? We've got plenty of those, too. Tours arrive each day to take in the sights and sounds of some of our more popular attractions, including Belvoir Castle, Ashby De La Zouch Castle, the National Space Centre, Twinlakes Theme park, Ashby Canal and the Great Central Railway. We truly have something for everyone.
Spitting Pig Leicestershire – Our Passion for Hog Roast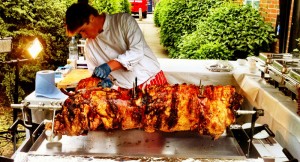 With so much going on all year round, we think it's only fitting that hungry visitors to Spitting Pig Leicestershire should be treated to the best cooked foods that central England has to offer. That means sourcing all of our fresh ingredients locally and always going the extra mile when it comes to special arrangements and menu alterations. Want to add beef or chicken or even seafood to your menu? We're happy to help. Do you have more more questions?…
Ask Us Anything…
Our trained staff members at Spitting Pig Leicestershire know that if this is your first hog roast catering experience, you will no doubt have many questions. Let us reassure you that no matter what your query or request, we're ready to do our best for you. Whether it's questions over gazebos, serving tables, and cutlery, or whether you have special requests over the the pick up or drop off of your hog roast machine, speak to us today to find out how we can help.