Are you planning an upcoming party or special celebration and considering doing the catering yourself? Well why not hire a hog roast machine from Hog Roast Loughborough?
Our machines are industry leading and have been designed and manufactured by us, right here in our own UK based factory! Best of all we have a full range of hog roast machines available for hire to suit your needs.
Hog Roast Hire Loughborough is a faultless service. Providing this brilliant catering solution to all areas of Leicestershire including; Melton Mowbray, Wigston, Coalville and plenty of others.
Each year we are continuing to grow as more and more people are becoming familiar with hog roasting and like us are also developing a love for hog roasts. For us it's great to see the traditional cooking method that takes us back to the caveman ages becoming such an intriguing and fascinating spectacle to have as the centrepiece to an event. We believe we have played a strong part in allowing this tradition to evolve and progress, by forming the industry leading machines that hog roasters all around the work are using.
Occasion Catering Made Simple
You might think you need to be a professional chef to be able to use one of our machines, however that is not the case at all. Our machines can produce the same fantastic results with both an expert chef and a complete beginner. You trust our machines to do the work for you, with a quick brief from one of our chefs upon delivery and a little helping hand if needed, your friends and family will be amazed at your skills.
It became a regular occurrence to us that a lot of our customers wanted to try hog roasting for themselves. With the devotion in mind to make hog roasting accessible to all, the hog roast hire option that we provide is a fantastic cost effective way to enjoy the hog roast experience while still on a budget. The quality of food that you can produce by hiring one of our machines is beyond belief.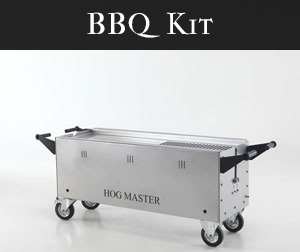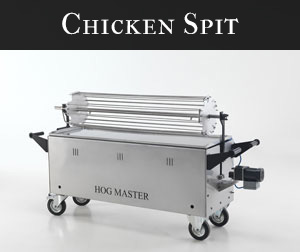 We do arrange delivery and collection for you, but it's not just a simple drop off and pick up service. Upon delivery you have the opportunity to ask our expert chef any questions you may have, he can even stay and help you light the machine so you are set up and ready to start cooking. We take as much pride in our hog roast machine hire service as we do our catering side of the business. So we want to ensure that when we leave you with our machine you are 100% confident in producing the perfect pig (or any other type of meat you choose to roast).
When it comes to booking in your Hog Roast Loughborough machine hire we include a bottle of gas and we can even supply the meat for your roast, this means you don't have to spend time sourcing your own pig or lamb. If you would like to supply your own meat that is not a problem at all, this will be reflected in the price too.
Equipment Superior To All Others
Wondering which machine is best for you? Here at Hog Roast Loughborough we have a variety of machines meaning we'll have the perfect one for you and your event. Our single oven machines are excellent for smaller gatherings of up to 150 people, these ovens can hold 75 kilos of meat or 45 kilos of meat with 30 jacket potatoes. The hog roast tray also comes with two brackets meaning that you can use the tray to carve and serve on, straight from the machine.
Our double oven machines are much better for larger events of 300 people and more, these ovens can cook two 75 kilo pigs at once or a 75 kilo pig with 150 jacket potatoes. This is all do-able because of our very advance dual heat controls, allowing the user to control what temperature the top and the bottom is cooking at, we are so proud to be one of the only machines that offers this much supervision over the cooking process. Don't let this advance technology turn you off this machine, our helpful staff will help you with any questions you have, along with providing a tutorial onsite when your machine is delivered!
We can confidently say that there is no other cooking method that can produce results as good as a hog or spit roast when it comes to quality of flavours. It is a very simple process that can easily be turned into a phenomenal dining experience with a little bit of know-how in terms of scoring, seasoning, and using the pig juices effectively. Other than that our master machines will take care of the rest for you.