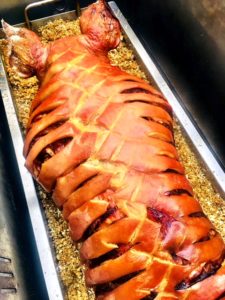 As its name suggests, Coalville developed as a town around its coal mining industry as more and more colliery workers came into the area to work. Its growth increased further when a railway line was built in the 19th century, which aided the town's other quarrying, textiles and engineering industries. Given its coal mining heritage, it is hardly surprising that Coalville has a popular local brass band, as well as a choir and Amateur Operatic Society.
If you are in need of some superior outdoor catering whilst you are enjoying some of Coalville's local creative and musical performances, the Hog Roast Coalville team can offer you everything you want and more. As well as our superior quality slow-roasted pork, we also have a variety of different menus that are ideal for both formal and informal occasions in any indoor venue or outdoor location in the whole of Coalville.
Great Food For All Occasions
In addition to being the best way of cooking meat, hog roasting is a very sociable way of cooking, giving everyone the chance to gather around to watch our state of the roasting machines and talented chefs work their magic. Our machines aren't just highly functional, they are also a great centrepiece for any event and our friendly catering team love chatting to our diners as we are putting the finishing touches to your menu, ready to be served exactly when you want it to be.
If you require something a bit more sophisticated, Hog Roast Coalville can provide a wide selection of 3-course menus with canapé options, including vegetarian and gluten-free alternatives to ensure everyone's needs are met. Whatever you choose, everything on your menu will be made using the freshest locally sourced ingredients available ad cooked from scratch at your venue.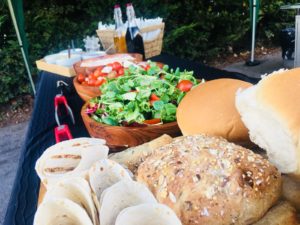 We put just as much thought into the way your food is presented as we do into the preparation of it and we will always listen to your requirements and adapt our approach depending on the level of formality you want, from large help yourself buffets to full table service.
Whether you want some fun party food or an elegant formal meal, the Hog Roast Coalville team has the experience and versatility to give you exactly what you want.