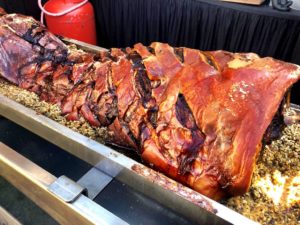 If you're in need of an expert caterer for your upcoming event, look no further than Hog Roast Melbourne. We have been serving delicious hog roasts to customers up and down the country for over 20 years and have gained a roaring reputation thanks to our team of expert chefs, waiting staff and event organisers.
Hog Roast Melbourne never cut corners when it comes to our catering. We only source the freshest ingredients and free-range meat from local suppliers so that we can guarantee the very best taste and texture. We understand that your event is extremely special to you, therefore, we aim to give you the best possible experience – that's why all of our menus are 100% adaptable to meet your exact needs. Alongside hog roasts, we also serve a selection of other meats including beef, chicken, fish, lamb, duck and so much more. However, if something doesn't quite hit the mark – let us know. We're happy to work with you to create your dream menu from scratch.
Hassle-Free Catering: We Can Cater For All Diets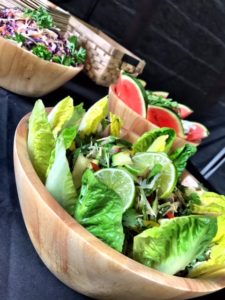 What's more, Hog Roast Melbourne are also happy to cater to any dietary requirements. We offer vegan, vegetarian and gluten-free menus which are available upon request. If any guests do have any other dietary needs or allergies, please let us know in good time and we will do our best to tailor each dish to the individual.
We can serve your guests in any style you prefer. A help-yourself buffet to delectable roasted meats would be great for a casual occasion with family and friends, however, if you're keen to make a good impression, we would recommend our sit-down meal option in which your guests will be served each dish to their table. You can also provide the additional service of welcome drinks and canapes before the meal.
Now that we've covered all of the basics of what Hog Roast Melbourne can offer you, please feel free to get in touch with the team today to find out more or book us for your event.