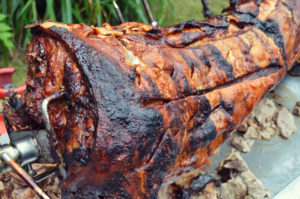 Melton Mowbray is known as the 'Rural Capital of Food' thanks to its abundance of great local produce, most notably Stilton cheese and its famous pork pies. Locals and visitors can get their fill of all the culinary delights Melton Mowbray has to offer at its many farmers markets and food festivals, including an Artisan Cheese Fair and its annual Great British Pie Awards.
Here at Hog Roast Melton Mowbray we also love making the most of great local produce and sharing it with our diners. Every ingredient we use is carefully selected from only the best local food producers, from our ethically-reared meat to our fresh fruit and vegetables and dairy products.
Great Food For All Occasions
For the Hog Roast Melton Mowbray team, our commitment to exclusively using the freshest ingredients available is what sets us apart from other catering companies. We know the origin of every item of food we present to you and this is something that will never change.
To maximise the quality and freshness of our ingredients, we always prepare everything from scratch at your venue. You will never find anything on your menu that hasn't been lovingly made by us on the day, including all of our starters, desserts and canapés if you have opted for a more formal 3-course meal.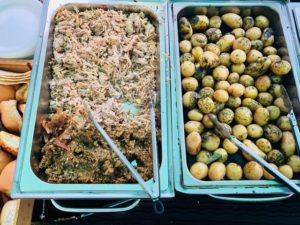 We have the flexibility to prepare all of our menus in any location in Melton Mowbray, which makes us the ideal catering option if you are planning to host your special occasion in a less traditional setting or in an outdoor location. We always bring everything with us that we need, and we never require outside assistance to deliver great food on the day. Both our cooking equipment and our catering team have the versatility to deliver consistently excellent quality regardless of location, and we even have our own events staff to assist with service and provide a warm welcome to your guests.
If you want to enjoy some of the great local produce Melton Mowbray has to offer, bespoke service and the freedom to host your event in any location in the area, the Hog Roast Melton Mowbray team are the perfect catering solution for your big day.