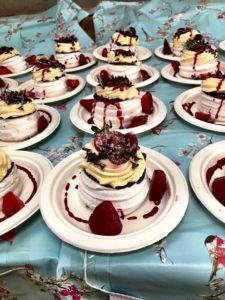 Here at Hog Roast Nottingham, we offer the finest pork in the area and imaginative contemporary menus, whilst also using a cooking technique that is even older than the legend of Robin Hood. In our opinion, slow roasting always has and always will be the best way of cooking meat, and by  combining this traditional technique with modern menus, we are able to offer a unique catering experience that everyone will love. Of course, as good as our pork is, we understand that we cannot limit ourselves to only offering this because we want our food to be appealing to everyone, regardless of personal preferences or dietary needs. This is why we strive to make our menus as varied as possible in both style and content, with a range of buffet and 3 course meal options that include different slow roasted meats, as well as exciting vegetarian and vegan dishes, all made from scratch on-site using the highest quality locally sourced produce and ethically reared meat.
The Perfect Catering Solution For Any Event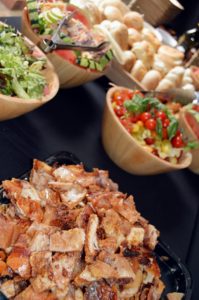 Hog Roast Nottingham's food is great for any relaxed gathering or more formal celebration, including birthdays, anniversaries, wedding receptions, corporate entertaining and large community events. Whatever the occasion, we will have a menu that meets your needs perfectly and we are able to adjust any dish accordingly in order to meet individual needs, providing you with a truly bespoke dining experience in the process.
Our service style is just as flexible as our catering methods. Our friendly catering assistants will always be on hand to help out if you opt for a self-service buffet, whereas if you would prefer a more formal sit down meal, we can bring along our own events team to provide efficient table service and take care of all of your guests' needs. We can even treat you to a canape welcome reception for extra special occasions, courtesy of our front of house team.
Thanks to our modern menus and classic cooking methods, Hog Roast Nottingham can provide you with an exciting and varied meal and attentive service for any indoor or outdoor event in Nottingham.