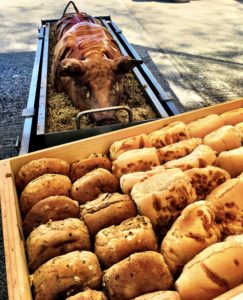 Tamworth is of course, well known for its high quality pork, and here at Hog Roast Tamworth, we only ever use the very best for all of our hog roast catering services. We only ever source meat from producers who use the most ethical methods and it is then placed in the expert hands of our skilled chefs who invest the time and patience required to ensure our premium pork is cooked slowly and delicately over the course of several hours until it is falling off the bone and oozing with natural flavour.
We take the quality of the rest of our ingredients just as seriously and we dedicate a lot of time to sourcing the very best free range dairy products and organic fruit and vegetables that Tamworth has to offer. We use our superior locally sourced ingredients to prepare all of the dishes on our menus from scratch on-site, even if we are providing catering for a large public event or preparing an extensive menu for a wedding reception.
Go Local With Hog Roast Tamworth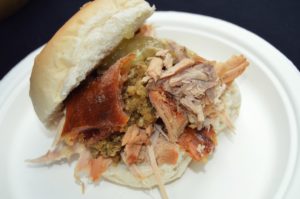 All of Hog Roast Tamworth's menus include a variety of different meats if you would prefer beef, chicken, or lamb for example, plus a broad range of vegetarian, vegan and gluten-free alternatives. It is very important to us that everyone can enjoy our food regardless of personal taste or dietary requirements and we are happy to make any necessary changes to any aspect of your menu to ensure everyone's needs are met.
We are able to cater in any outdoor setting or indoor venue in the whole of Tamworth and we are able to adapt our style of service to suit the nature of your event. For more informal gatherings, one of our help yourself buffets is ideal, but if you are planning a more formal celebration, we are able to provide full table service and a canape welcome reception.
If you want the finest hog roasts in Tamworth, flexible service and a versatile menu that celebrates great local produce, the Hog Roast Tamworth team are the ideal catering company for your event.