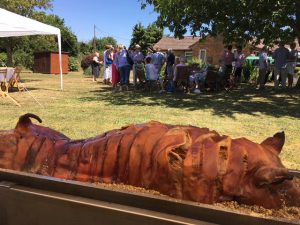 Situated 5 miles from Leicester, Wigston was the birthplace of author Johnathan Swift's mother and Graham Chapman, of Monty Python fame, whose father was a police inspector in the town during the 1950s. It also has a Framework Knitting Museum, which commemorates the importance of the area's textile and hosiery industries, which was the town's main source of employment during the 17th-19th Centuries.
The Hog Roast Wigston team have the ability to make any event in Wigston extra special with our premium pork, exciting menus and flexible approach. We can provide the best quality pork in the area, cooked to perfection by our talented chefs utilising our own intelligently-designed cooking equipment at any venue in Wigston, accompanied by a whole host of freshly prepared, tasty side dishes.
Great Food For All Occasions
Here at Hog Roast Wigston our high quality ingredients are the backbone of what we do. Everything on our menus is carefully selected from the best local produce available and freshly prepared at your venue. We never take short cuts when it comes to the quality of the food we provide, or our preparation methods and we take pride in offering you the finest and freshest ingredients around.
We have a selection of different meats available if you would prefer an alternative to pork, as well as a vast choice of starters, desserts and vegetarian options, guaranteed to please all of your guests no matter what their food preferences or dietary requirements are.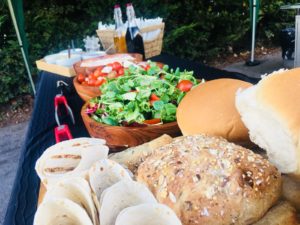 We will always arrive at your venue several hours before your event is due to take place and be ready to serve right on cue. For more formal occasions we can even provide our own events staff to greet your guests with a tray or our own handmade canapés and if you would prefer a structured 3-course meal to a buffet, our attentive waiting staff will be on hand throughout your event to provide friendly and efficient table service.
If you are planning your wedding reception, family party or any other kind of special event in the town, the Hog Roast Hinckley team can meet all of your food and service needs and we will always go the extra mile to make sure everyone has a thoroughly enjoyable day and a memorable dining experience.