With six whole weeks of the summer holidays to enjoy before the kids head back to school in August, we know you've probably been wondering how on earth you're going to fill up the time and keep everyone occupied. But wonder no more because that, my friends, is where Hog Roast Oadby comes into the picture!
Knowing that it's life's simplest pleasures that bring the most happiness and fulfilment and that nothing fits the bill better than a lush meal with the whole family, we're here to show you and your loved ones a fab time with our family-friendly menu plans that have been carefully crafted to unite all ages.
The adults will love our modern take on traditional recipes and the kids? Well, they will be all over our gourmet hot dogs, finger-lickin' beef burgers and homemade fries! So, no matter who you're trying to impress, you can trust that Hog Roast Oadby will not let you down. Oh, and not only does our food taste immense, but the experience of watching our chefs hard at work is sure to leave your guests feeling very entertained in the lead-up to the meal.
One of our recent clients, Layla, discovered exactly that when she hired Hog Roast Oadby to cook and serve our Southern Slow Roast Menu for her and 100 guests on Thursday afternoon. She had invited everyone round for her annual summer catch-up, which always coincides with the start of the summer hols – much to the delight of the kids in the family who were excited to meet up with their cousins again after being apart for such a long time!
The guest list consisted of people of all ages, including some very small children, so the food available needed to suit a wide range of dietary requirements. And to ensure everyone's needs were met, our catering manager, Jon, helped Layla to customise the menu so that there was something available for every set of taste buds.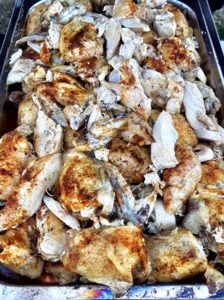 This saw Hog Roast Oadby serve a spectacular spread, which involved Italian antipasti platters followed by BBQ pork butt, Texan 24-hour beef brisket and Cajun-spiced whole roast chickens, as well as burgers, hot dogs and BBQ pulled jackfruit rolls. Our team also whipped up crispy fries, fresh salads and a huge batch of coleslaw.
The group were extremely pleased with the variety on offer and happily dug into the generous spread, which lived up to Layla's high expectations.