As the days get longer and the sun starts to shine brighter, there is nothing better than enjoying a day in the garden with friends and family. The only thing that makes a day with good company even better is the addition of great catering! At Hog Roast Earl Shilton, we have a variety of different menus to choose from, including this delicious option…
With spring in full swing, Hog Roast Earl Shilton has been hired to cater for a garden party for a local group of friends. The friends live scattered across the country for work and university, so it is always nice when they have an occasion to gather together for. This time, they decided to hire Hog Roast Earl Shilton to cater for a garden party at one of their homes. The menu needed to be ideal to serve outside and needed to be suitable for 20 guests to enjoy, including 7 vegetarians. After looking through our catering options, it was decided that a Gourmet BBQ was the perfect choice for the occasion.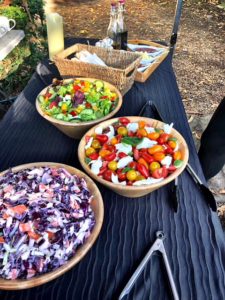 On the day of the event, the Hog Roast Earl Shilton team arrived in advance of the 7:00 pm mealtime, giving ourselves plenty of time to prepare and cook the dishes. We began by grilling the mains, which included succulent sausages, juicy British beef burgers, marinated chicken kebabs, and halloumi and vegetable skewers. These dishes were served with fresh bread rolls or a gluten-free alternative. Alongside the mains, we also served some tasty side dishes, such as crunchy coleslaw, corn cobettes, sweet potato fries, and seasonal salad dishes. This created a delicious menu and had something for everyone to enjoy, as it was such a versatile menu. It was great to see the guests enjoying our catering and it was an ideal addition to the event.
Are you looking for a caterer for an event this spring or summer? If so, get in touch with Hog Roast Earl Shilton today to secure your date. Simply let us know your party size, date, and location and we can get to work!