Turing 80 is an incredible milestone and Hog Roast Burntwood has just the right menu for your celebration! Whether you wish to enjoy a large celebration or something more private, we have a catering package that is ideal for the occasion. Here is what to expect when Hog Roast Burntwood cater for your birthday this spring!
Hog Roast Burntwood's catering manager Jon recently worked at an 80th birthday party. The event was a lot of fun, and it was great to provide a delicious menu for 50 family members and friends. Together, everyone enjoyed a wonderful occasion on a beautifully sunny April day! Our client Valerie required a menu that would be ideal for guests of all ages, including a child-friendly option and a vegan alternative. After looking through our options, she decided on a classic hog roast with the addition of a delicious dessert course. This was an ideal option for the day, and it was set to be a wonderful event!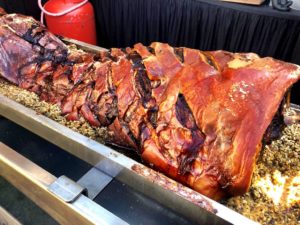 The Hog Roast Burntwood team arrived at Burntwood memorial institute with plenty of time to prepare the courses for the 18:00 mealtime. We began by roasting the hog and ensuring that it was cooked to perfection, alongside the BBQ pulled jackfruit for meat-free guests. Both main dishes were served in fresh bread rolls or a gluten-free alternative. Alongside the mains, we also prepared crunchy coleslaw, a crispy Thai salad, homemade chips, and sausages for the children to enjoy. The main dish went down a treat and there was plenty for the guests to enjoy!
Following the main course, we served lemon tarts and cheesecake for dessert. The dishes were served with English cream and fresh berries to create a delicious and elegant-looking final course. The dessert course was an excellent way to end the meal and prepare the guests for an evening of entertainment and birthday celebrations.
With over 7 different catering menus to choose from, there is bound to be something that is just right for you. To find out more, simply let us know your party size, date, and location and we can do the rest. We hope to hear from you soon!